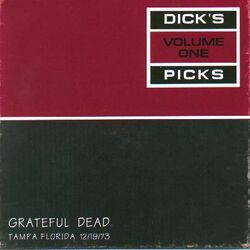 Songs Picked
Edit
Disc 1:
Here Comes Sunshine
Big River
Mississippi Half-Step Uptown Toodeloo
Weather Report Suite
Big Railroad Blues
Playing In The Band
Disc 2:
He's Gone->
Truckin'->
Nobody's Fault But Mine->
Jam->
The Other One->
Jam->
Stella Blue
Around And Around

This release, the first in the series, was recorded 12-19-73 at the Curtis Hixon Hall in Tampa, FL. This release is more heavily edited than later ones in the series with songs placed in different order, a fade out on Half-Step (even though it's complete on the master), and even an edit to the jam.
Grateful Dead
Edit
In the CD liner notes, Donna Jean Godchaux is listed in the band lineup and credited as "giving birth".
Production
Edit
Kidd Candelario — producer, recording
Dick Latvala — tape archivist
Bruce Polonsky — photography
Gekko Graphics — design
special thanks to Nagra 2791 and Jeff Briss