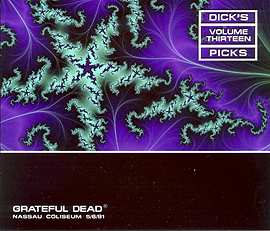 Songs Picked
Edit
Disc 1:
Alabama Getaway->
Greatest Story Ever Told
They Love Each Other
Cassidy
Jack-A-Roe->
Little Red Rooster
Dire Wolf->
Looks Like Rain
Big Railroad Blues->
Let It Grow->
Deal
Disc 2:
New Minglewood Blues
High Time->
Lost Sailor->
Saint of Circumstance
Disc 3:
He's Gone->
Caution/Spanish Jam->
Drums->
Jam->
The Other One->
Goin' Down the Road Feeling Bad->
Wharf Rat->
Good Lovin'
Don't Ease Me In

This release was recorded 5-6-81 at Nassau Veterans Memorial Coliseum in Uniondale, NY. The He's Gone was dedicated to Irish Hunger Striker Bobby Sands who died that day. There is a hidden version of Scarlet Begonias->Fire On The Mountain recorded on 11-1-79 at the same venue tacked on to Saint Of Circumstance. This release was mastered from the cassette PA system sound reinforcement masters.

Grateful Dead:
Jerry Garcia - lead guitar, vocals
Bill Kreutzmann - percussion
Phil Lesh - bass, vocals
Bob Weir - guitar, vocals
Mickey Hart – drums
Brent Mydland – keyboards, vocals
Production:
Dick Latvala - tape archivist
Gecko Graphics - design
Dan Healy - recording
Jeffrey Norman - CD mastering
John Cutler - magnetic scrutinizer
Jim Anderson - photography