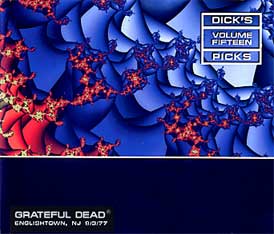 Songs Picked
Edit
Disc 1:
Promised Land [5:08]
They Love Each Other [7:41]
Me & My Uncle [3:52]
Mississippi Half-Step Uptown Toodeloo [13:35]
Looks Like Rain [7:52]
Peggy-O [9:18]
New Minglewood Blues [5:21]
The Music Never Stopped [7:03]
Disc 2:
Bertha --> [8:36]
Good Lovin' [6:00]
Loser [8:37]
Estimated Prophet --> [9:30]
Eyes of the World --> [13:17]
Samson & Delilah [6:40]
Disc 3:
He's Gone --> [14:19]
Not Fade Away --> [20:07]
Truckin' [10:06]
Terrapin Station [11:02]

This release was recorded on 9-3-77 at Raceway Park in Englishtown, NJ. This was the band's first performace since June at Winterland due to the fact that drummer Mickey Hart had been in a car accident. This was the first Dick's Picks to be released after vault archivist Dick Latvala had passed. It was originally going to be 11-8-69 but there too many problems with the tape to get it done in time. It would be released as Dick's Picks 16. There is some controversy surrounding this release as not only do the two track master tapes seem to have undergone some sort of mixing, there was an additional edit made to He's Gone lasting longer than the tape flip. The currently circulating FM and audience sources have nearly an additional two minutes although it is possible that Betty Cantor was busy and didn't get back in time to flip the tape sooner.

Grateful Dead:
Jerry Garcia - lead guitar, vocals
Bill Kreutzmann – percussion
Mickey Hart - drums
Phil Lesh - bass, vocals
Bob Weir - guitar, vocals
Donna Jean Godchaux - vocals
Keith Godchaux - keyboards
Production:
Dick Latvala - tape archivist
Gecko Graphics - design
Betty Cantor-Jackson - recording
Jeffrey Norman - CD mastering
John Cutler - magnetic scrutinizer
Jim Anderson, John Oliver – photography
Martha Megill - liner notes; from Asbury Park Press September 6, 1977.