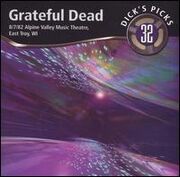 Dick's Picks Volume 32 is the thirty-second installment of the Dick's Pick's series of Grateful Dead concert recordings. It is a two CD set that contains one complete show, recorded on August 7, 1982 at Alpine Valley Music Theatre in East Troy, Wisconsin.
An outdoor theater in rural southeastern Wisconsin, Alpine Valley was a very popular summer venue among Deadheads of that era. It is also the site of the Grateful Dead concert video Downhill From Here.
The album contains the only officially released electric version of "On the Road Again". In an oddity of sorts, Jerry Garcia helps sing a few lines during "One More Saturday Night". The band uses a seven beat count for "Beat It On Down the Line", and during "Ship of Fools", Garcia sings the variant line "with 30 years upon my head".
The encore was moved to the end of the first disc to keep the second set intact.
Track listing
Edit
"The Music Never Stopped" (Bob Weir, John Barlow) – 4:19->
"Sugaree" (Jerry Garcia, Robert Hunter) – 9:51->
"The Music Never Stopped" reprise (Weir, Barlow) – 4:00
"Me and My Uncle" (John Phillips) – 3:02->
"Big River" (Johnny Cash) – 6:12
"It Must Have Been the Roses" (Hunter) – 5:51
"C.C. Rider" (traditional, arranged by the Grateful Dead) – 7:34
"Ramble On Rose" (Garcia, Hunter) – 7:31
"Beat It On Down the Line" (Jesse Fuller) – 3:11->
"On the Road Again" (traditional, arranged by the Grateful Dead) – 3:04
"Althea" (Garcia, Hunter) – 7:56->
"Let It Grow" (Weir, Barlow) – 11:39
Encore: "U.S. Blues" (Garcia, Hunter) – 5:16
"China Cat Sunflower" (Garcia, Hunter) – 6:42->
"I Know You Rider" (traditional, arranged by the Grateful Dead) – 7:43
"Man Smart, Woman Smarter" (Span) – 8:29
"Ship of Fools" (Garcia, Hunter) – 6:39
"Playing in the Band" (Weir, Mickey Hart, Hunter) – 11:15->
"Drums" (Hart, Bill Kreutzmann) – 5:31->
"Space" (Garcia, Phil Lesh, Weir) – 5:31->
"The Wheel" (Garcia, Kreutzmann, Hunter) – 5:51->
"Playing in the Band" reprise (Weir, Mickey Hart, Hunter) – 4:09->
"Morning Dew" (Bonnie Dobson, Tim Rose) – 10:11->
"One More Saturday Night" (Weir) – 4:59
Personnel
Edit
Grateful Dead
Edit
Production
Edit
Recording - Dan Healy
CD mastering - Jeffrey Norman
Tape archivist - David Lemieux
Archival research - Eileen Law
Photography - Robert Minkin & Bill Turley
Cover art and package design - Robert Minkin