Songs Picked
Edit
Disc 1:
Intro by Zacherle
Casey Jones
Dancing In the Streets
China Cat Sunflower->
I Know You Rider->
High Time->
Dire Wolf
Dark Star->
Disc 2:
That's It For The Other One->
Turn On Your Lovelight
Disc 3: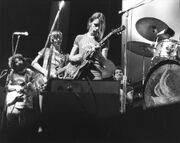 Alligator->
Drums->
Me And My Uncle->
Not Fade Away->
Mason's Children->
Caution (Do Not Stop On Tracks)->
Feedback->
And We Bid You Goodnight

This release is made up of songs the band played during it's late shows on 2-13 & 14-70 at the Fillmore East in New York City. Other songs from these sets had been used back in 1973 on History of the Grateful Dead Volume 1 (Bear's Choice). The first copies of Dick's Picks Volume 3 came with a questionaire asking fans what show they would like to see next and this one won the poll as well as also being the first three cd set in the series. It was also around this time that the GD office found out that the Fillmore crew had also made tapes and these tapes were used to patch the reel flips in the Dead's vault tapes. Not long after this release, there was also an Allman Brothers Band release from these shows as they were one of the opening acts for the Dead.
Grateful Dead
Edit
Production
Edit