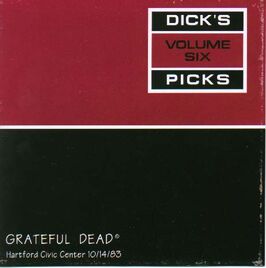 Songs Picked
Edit
Disc 1:
Alabama Getaway->
Greatest Story Ever Told
They Love Each Other
Mama Tried->
Big River
Althea->
C.C. Rider
Tennessee Jed
Hell In a Bucket->
Keep Your Day Job
Disc 2:
Scarlet Begonias->
Fire On the Mountain
Estimated Prophet->
Eyes Of the World->
Disc 3:
Drums->
Spinach Jam->
The Other One->
Stella Blue->
Sugar Magnolia
U.S. Blues

This release was recorded 10-14-83 at the Hartford Civic Center in Hartford, CT. This was the first '80's release in the series as well as the first not to be mastered from master reel to reel tapes but metal cassette masters.
Grateful Dead
Edit
Production
Edit
Dan Healy - recording
Dick Latvala - tape archivist
Jeffrey Norman - CD mastering
Michael Conway - photography
Gecko Graphics - design