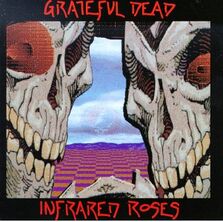 About The Album
Edit
Somewhere in the middle of the second set of every Grateful Dead show the band turns a corner. They enter a musical environment without walls or structure. The song form is abandoned, and the very elements of music may be called into question. The only mandate is to explore new territory. It is an environment where rhythm, tone, color, melody, and harmony can be explored without rules or predetermination, a musical adventure where composition and performance are one. This album is about that adventure.
I have attempted to sift through these explorations, distilling moments where the Grateful Dead magic occurs in its highest form. All the material was performed live by the Grateful Dead in concert. But instead of presenting this material as it was performed in a show, I have focused on specific musical themes. Some pieces have been created from performances of the same night. Others have been created from multiple shows. I have tried to focus the energy of the selections while maintaining the integrity and nuance of each performer.
Join the magical voyage through the Grateful Dead's vastly different soundscapes. Tear up your set lists, sit back and listen!
-- Bob Bralove
Crowd Sculpture
Parallelogram
Little Nemo in Nightland
Riverside Rhapsody
Post-Modern Highrise Table Top Stomp
Infrared Roses
Silver Apples of the Moon
Speaking in Swords
Magnesium Night Light
Sparrow Hawk Row
River of Nine Sorrows
Apollo at the Ritz