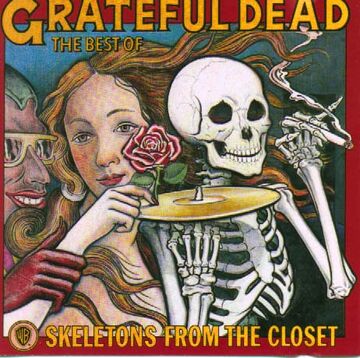 About The Album
Edit
Skeletons from the Closet: The Best of Grateful Dead was the first compilation album from the Grateful Dead. It was first released on LP in February 1974. The release was a ploy for Warner Bros. Records to cash in on the escalating popularity of the band after they had left to start their own label.
Three of the tracks were not original Dead album studio recordings. The single version of "Turn On Your Lovelight" had also appeared on the album The Big Ball, which was a loss leader sampler distributed by Warner Bros.; it had also appeared in longer form on Live/Dead. "One More Saturday Night" was taken from the band's live release Europe '72. And "Mexicali Blues" was actually a track from guitarist Bob Weir's solo release (but essentially Dead album) Ace.
Warner Bros. released the album on CD and cassette in 1988 before re-releasing the LP in 1990. The album would be later re-released on by Rhino Records on May 24, 2004 as part of a greatest hits series by various bands. It contains the complete "Lovelight" from Live/Dead.
Skeletons from the Closet is the Dead's best-selling album, going triple platinum in the United States.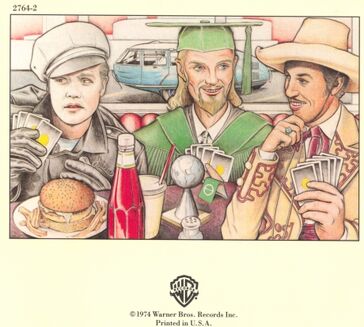 The back cover has been under much scrutiny by fans in terms of interpretation. It depicts three men playing cards with a globe in the center of the table in a futuristic diner with a flying saucer hovering outside in the background. The three men appear as Marlon Brando from The Wild One, a long-haired bearded man in a graduation cap and gown and a Bandito with a sly look on his face. Some have interpreted it as Man, Jesus Christ and The Devil playing cards for the world. However the artist, John Van Hamersveld, has never confirmed this.
The Golden Road (To Unlimited Devotion)
Truckin'
Rosemary
Sugar Magnolia
Saint Stephen
Uncle John's Band
Casey Jones
Mexicali Blues
Turn On Your Love Light
One More Saturday Night
Friend Of The Devil
Community content is available under
CC-BY-SA
unless otherwise noted.