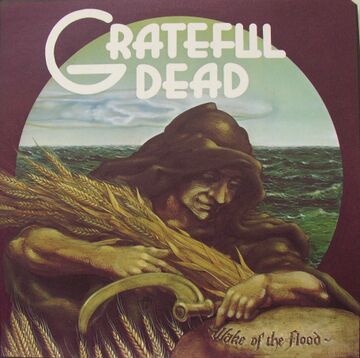 Wake of the Flood
is the sixth
studio album
by the
Grateful Dead
. It was recorded between August 4 and September 1, 1973 and originally released on October 15, 1973. It was the first release under the band's own
label
,
Grateful Dead Records
, after fulfilling their contract with Warner Bros. Records. It was their first full-length studio album in nearly three years, since 1970's American Beauty. It was also the first studio album without
Ron "Pigpen" McKernan
, who had recently died. His absence and new piano player
Keith Godchaux
's tendency towards jazz (rather than McKernan's tendency towards the blues) changed the band's sound.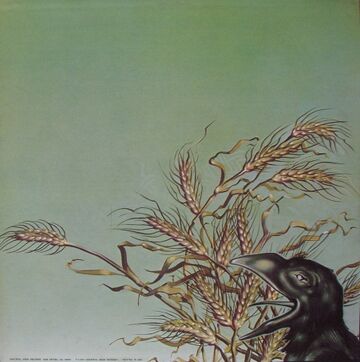 This album has the only songwriting or vocal contribution from Keith Godchaux, "Let Me Sing Your Blues Away". This song was only performed live a handful of times, in September 1973.
The album was released on CD first in 1995 by Grateful Dead Records and Arista before being remastered, expanded, and released as part of the Beyond Description (1973-1989) 12-CD box set in October 2004. The remastered version was then released separately on CD on March 7, 2006 by Rhino Records.
"Mississippi Half-Step Uptown Toodeloo" (Hunter, Garcia) – 5:45
"Let Me Sing Your Blues Away" (Hunter, Godchaux) – 3:17
"Row Jimmy" (Hunter, Garcia) – 7:14
"Stella Blue" (Hunter, Garcia) – 6:26
"Here Comes Sunshine" (Hunter, Garcia) – 4:40
"Eyes of the World" (Hunter, Garcia) – 5:19
"Weather Report Suite" – 12:53
"Prelude" (Weir)
"Part I" (Weir, Anderson)
"Part II (Let It Grow)" (Barlow, Weir)
"Eyes of the World" (recorded on September 7, 1973 at Nassau Coliseum in New York) – 17:05
"Weather Report Suite" (acoustic demo) – 12:39
"China Doll" (outtake) – 4:02
Personnel
Edit
Additional performers:
Reissue production credits
Edit
David Lemieux, James Austin - reissue producers
Tom Anderson - engineer, liner notes
Reggie Collins - annotation
Peter Coyote - liner notes
Sheryl Farber - editorial supervision
Tom Flye - mixing
Dan Healy - engineer
Cameron Sears - executive producer
Jimmy Edwards, Robin Hurley, Hale Milfgrim, Scott Pascucci - associate producer
Joe Gastwirt - mastering, production consultant
Rick Griffin, Eileen Law - research
Ed Perlstein, Bruce Polonsky, Michael Putland - photography
Hugh Brown, Steve Vance - design, reissue art directors
Vanessa Atkins, Steven Chean, Bill Inglot, Jeffrey Norman, Randy Perry - project assistants