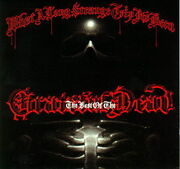 About The Album
Edit
What a Long Strange Trip It's Been - The Best Of The Grateful Dead, is a compilation album by the Grateful Dead. It was initially a two record LP released in October 1977 by Warner Bros. Records. Even though the band left Warner Bros. after their contract was up in order to form their own label, Grateful Dead Records, Warner Bros. continued to release older material from during the contract period. The album was known for it's inclusion of the then rare Dark Star/Born-Cross Eyed single. The original album had the timing listed for the Bear's Choice version of Black Peter but really featured the Workingman's Dead version. The cd and lp reissue changed that and used the Bear's Choice version instead.
The title of the compilation comes from one of Robert Hunter's most famous lyrics, the line from "Truckin'": Lately it occurs to me: What a long, strange trip it's been.
The album was reissued as both a 2-CD set and on cassette tape, by Warner Bros. in 1989 when the band was revitalized by their latest album In The Dark.
Disc 1:
New, New Minglewood Blues
Cosmic Charlie
Truckin'
Black Peter
Born Cross-Eyed
Ripple
Doin' That Rag
Dark Star
High Time
New Speedway Boogie
Disc 2:
St. Stephen
Jack Straw
Me And My Uncle
Tennessee Jed
Cumberland Blues
Playing In The Band
Brown-Eyed Women
Ramble On Rose